Saint Marianne's West Side Boutique has been busy throughout the coronavirus state of emergency — even though it had to close when the soup kitchen transitioned to take-out meals.
Before the shutdown, the boutique was helping an average of 150 individuals per month, providing clothing, hygiene products and other items.
Since the shutdown, Boutique Director Nancy Robert has been applying for grants and requesting donations to help people in the interim as well as prepare for reopening when the state of emergency eases up.
The boutique has received face masks from Mohawk Valley Quilt Club and Tiger Lily Quilt Company in Utica — which were distributed to volunteers and the 100-plus people coming to the soup kitchen daily. When a donation of 640 regular bars of soap came in from Precise Kit Promotions of Ramsey, N.J. (which has a warehouse in Utica), Nancy made sure the soap was available to patrons as they came in for meals. Patrons include the homeless, the jobless, the underemployed, and others facing financial stress.
Nancy reports she also is seeking grants to obtain a couple hundred "unisex adult hygiene kits." She can obtain the product at a nonprofit rate of $8.07 per kit by ordering a number of cases at a time (with 24 kits per case). Each kit includes toothbrush, toothpaste,  comb, brush, shampoo, cream rinse, body bath lotion, two razors, shaving gel, deodorant, and soap.
"it's not small like a travel kit," she notes. "It's full size."
In February Fort Schuyler Trading Co. in Utica  donated several dozen fleece blankets, boxes of baseball caps, and t-shirts. "We were able to distribute a lot, but then the shutdown hit, so we have blankets, hats and shirts ready."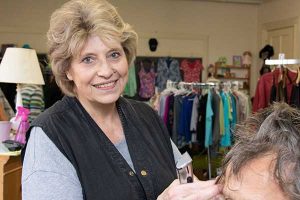 The boutique's 12 volunteers "are all anxious to get back to work." In fact, Nancy says she hopes to expand from being open two days a week to three days, adding Thursday to the Monday and Wednesday schedule. Hairstylists Linda Perrymen and Debbie Moorhead, owners of Hair Solutions in Yorkville, are hoping to resume offering free haircuts every first Monday of the month, she notes.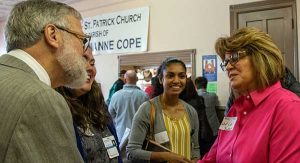 She also is looking forward to having Dr. Mark Warfel and the St. Elizabeth Family Medicine Residency Program doctors return to offer health screenings.
Mary Gearhart of Queens Closet in Yorkville over the past two years "has supplied us with clothing, footwear, boots, clothing racks, card racks, many other miscellaneous items," Nancy notes. "She has been instrumental in us starting and continuing," putting the boutique in a good position to reopen.
In addition, the boutique recently received a donation of 2,000 pairs of quality socks from Bombas Sock Company out of New York City. "For every pair of socks they sell, they donate to charities like homeless shelters, so I applied for a grant to them."
PHOTO AT TOP: Boutique volunteers pose for the camera during the 2019 soup kitchen rededication celebration held at the Irish Cultural Center across the street. Photo by R. Stronach.