Legacy of Father Dellos
F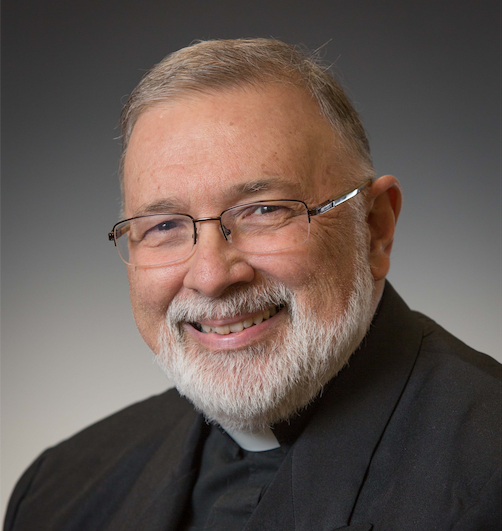 ather Richard Dellos leaves a legacy of hospitality to those in need. His family wants to continue that legacy through a fund to support the parish soup kitchen, Mother Marianne's West Side Kitchen. [Donate through our GoFundMe page. Be sure to indicate that your donation is in memory of Father Dellos. Feel free to comment on what Fr. Dellos meant to you.]
***
Father Dellos would preach about "Divine Hospitality," where Jesus teaches "a humble way of doing things" and shows love that is freely given without thought of payment.
""That is why our soup kitchen is such a beautiful thing," Fr. Dellos would assert. It's about helping the hungry and not expecting anything in return.
He would often speak of "three great factors that have formed us into a vibrant community and given us a unique identity."
"First, it is because of God's greatest attribute, His Divine Mercy that we are blessed with the greatest gift, The Eucharist, and our greatest parishioner, St. Marianne Cope who received her vocation in our parish."
The parish, he would say, is "learning from her life and example" to reach out to the marginalized.
[Photo at top shows Father Dellos unveiling a sculpture of Jesus as a homeless beggar. He dedicated the sculpture to the volunteers and patrons of Mother Marianne's West Side Kitchen during the soup kitchen's 9th anniversary observance in 2017.]

Father Dellos, a Priest for Over 50 Years
The Rev. Richard Dellos died Aug. 11, 2020 from COVID-19-related complications. He was 77. Father Dellos was a priest of the Syracuse Diocese for more than 50 years and pastor of St. Joseph-St. Patrick Church in Utica since 2002. He was visiting family in Endicott when he became ill, and was admitted to Lourdes Hospital in Binghamton where he died.
Father Dellos graduated from Seton Catholic High School and went on to priestly studies at St. Andrew and St. Bernard's seminaries in Rochester. In December of 1967 he was ordained a deacon by Bishop Fulton J. Sheen in Rochester, and ordained to the priesthood on May 18, 1968. Over the next five decades, he ministered in parishes in Fulton, Binghamton, Syracuse, Endicott, Greene, and Utica. His ministry also included service as a jail chaplain and as liaison to the bishop for charismatic renewal.
Father Dellos shared his story of responding to God's call with the Syracuse Catholic Sun in 2010. His ministry, he said, had been "full of surprises and I wouldn't want to do anything else."
As an altar boy at St. Anthony's Church in Endicott, Father Dellos enjoyed serving the church, and while attending St. Ambrose Catholic School and Seton Catholic, he was impressed by the spirituality of his teachers, the Sisters of Charity. Father Dellos said that when he entered the seminary at 17, he knew nothing of the Charismatic Renewal, which later played a major role in energizing his ministry. "The Charismatic Renewal in 1974 ignited my priesthood with its spiritual opportunities," he said. "It gave me encouragement and enthusiasm."
Father Dellos was a great proponent of the power of prayer, of God's mercy and of parish daughter Mother Marianne's cause for sainthood. He led St. Joseph-St. Patrick Parish during a period where it served as a beacon with its 24-hour Adoration Chapel, where it was a magnet for the Divine Mercy celebration, where it built a shrine honoring the future Saint Marianne, and where it "came down from the mountain" to serve the hungry and homeless of the neighborhood through Mother Marianne's West Side Kitchen.
Information for this bio came from the Catholic Sun and St. Joseph-St. Patrick Parish history.