Impact of Edward Morgan
Ed Morgan leaves a huge impact on our soup kitchen and its hospitality to those in need. We would like to continue that legacy through a fund to support Mother Marianne's West Side Kitchen. [Donate through our GoFundMe page. Be sure to indicate that your donation is in memory of Ed Morgan. Feel free to comment on what Ed meant to you.]
'The Man with the Biggest Heart'
Edward Morgan, director emeritus of Mother Marianne's West Side Kitchen, passed away on Monday, April 5, 2021 at the age of 61, after a long battle with cancer.
Ed played a significant role in building up the soup kitchen, first becoming a founding member of an advisory board to oversee the operation at a crucial time, and then becoming director of the soup kitchen.
During his tenure, the operation was graced by needed capital improvements, a number of grants and major donations as well as a dedicated volunteer force. With his guidance and the organizing skills of volunteer Nancy Robert, the soup kitchen gave birth to Mother Marianne's West Side Boutique, providing personal care items, clothing and other services to those in need.
After nearly four years at the helm, illness forced Ed to step back from his director duties in 2020 while remaining active on the advisory board. Last September the board honored Ed with the title of director emeritus in recognition of his impact on the operation, the people being served, the volunteers and the parish (where he also served as building and grounds director and formerly on the parish council).
The volunteers thought highly of Ed too. In 2019, when Ed wanted to show gratitude to the people who make the soup kitchen an impactful operation, he organized a volunteer banquet.
Nearly 100 volunteers showed up. And they instead thanked Ed.
Terry Decker, who volunteers with her husband Bob, took to the podium and announced that the volunteers were presenting Ed with a proclamation, titled, "Ed Morgan, the Man with the Biggest Heart!"
Terry read the proclamation, which said, in part:
"Thank you for making such a wonderful difference in the lives of the people you meet and provide services to in our community. It is our honor to work alongside you as you work tirelessly to help the less fortunate, providing meals for them seven days a week. Even when you could relax with friends and family, you sacrifice your time and energy…What a tremendous asset you are to our community and to all of us who work with you!"
***
From Ed's obituary appearing in The Observer-Disptach on April 9, 2921.

Mr. Edward "Eddie" Morgan
November 29, 1959 – April 5, 2021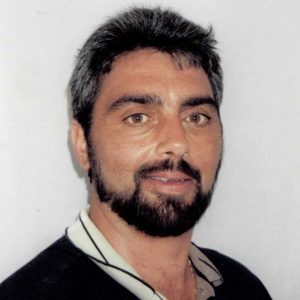 E. UTICA – Mr. Edward "Eddie" John Morgan, age 61, passed away on Monday, April 5, 2021 in the company of his daughters and son-in-law.
He was the beloved son of the late Andrew J., Sr. and Mary (Nole) Morgan. He was a graduate of T.R. Proctor High School, MVCC, and SUNY IT where he earned a Bachelor of Arts degree in Business Administration. On September 19, 1986 he was united in holy matrimony to Marguerite Siuta at St. Joseph & St. Patrick Church.
Ed's working career began as a tradesman and carpenter, working with many notable area contractors under the guidance of his father. He was elected as the Business Manager of the United Brotherhood of Carpenters and Joiners of America Local #120 where he was a fearless negotiator and advocate for the best working conditions and benefits for members. Sadly, his working years concluded as he began one of his biggest battles – cancer. He beat the odds of his projected diagnosis and was blessed with 12 additional years of life. With his knowledge and craftsmanship, he was able to guide and direct home improvements for family members and friends. He also continued to engage in the community at St. Joseph & St. Patrick Church, where he served on the parish council, building and grounds, and on the advisory board to oversee the reformation of Mother Marianne's West Side Kitchen, under the direction of Father Dellos. With his management skills and carpentry competence he was instrumental in securing grants and donations and raising awareness to the needs of the West Side Kitchen. Ed hoped that he would be remembered as a man who made things happen. He took every journey in life head on and with conviction.
Edward is survived by his wife, Marguerite; his daughters and son-in-law, Elizabeth Rose Morgan, and Rebecca Ann and Chancellor Coyne, Sr.; and his grandson, Chancellor Coyne, Jr., the joy of his heart. Hailing from a family of 9 siblings, the memories and stories are endless. – Andrew J. Jr. and Suzanne Morgan, Dorothy and David Neri, David and Cindy Morgan, Michael and Suzanne Morgan, Mary Ann Morgan, twins Patricia "Trish" and James LaBella and Patrick and Lisa Morgan, and Christopher and Heather Morgan. He will also be remembered by his 68 nieces and nephews, 51 great-nieces and great-nephews, cousins, especially acknowledging Roseann, aunts, and uncles. He was godfather to Danielle LaBella, David Morgan Jr., Mark Morgan, and Christopher Miller, as well as godfather and Confirmation Sponsor for Jonathan, Paul, and Mike Maneen, with whom he had a special bond.
He also leaves his mother in-law, Bernadette Siuta, and in-laws Ramona and Carl Scaramuzzino, Martin Siuta, Christine Miller, Elizabeth and Stephen Graham, Daniel and Rosalie Siuta, Anthony Siuta, and Andrew Siuta. He will be embraced in heaven by his granddaughter, Nona Jude Coyne; and his cousin, John Maneen who was more like a brother. He was preceded by his parents and father in-law, Raymond Siuta.
Visitation will be held Monday morning, April 12, 2021 from 10:00 – 12:00 at St. Joseph & St. Patrick Church, 702 Columbia Street. Family and friends are respectfully invited to attend Edward's funeral service and Celebration of Life which will commence Monday afternoon at 12:30 at the church where his Mass of Christian Burial will be offered. Face masks covering your nose and mouth are required and social distancing and contact tracing will be implemented. In lieu of flowers, donations in Ed's memory may be made to Mother Marianne's West Side Kitchen at St. Joseph & St. Patrick Church, online at https://mmwsk.org or by mail to 702 Columbia Street, Utica, New York 13502.