Santa Claus and one of his elves brought Christmas cheer to the soup kitchen on Wednesday, Dec. 16 – while respecting COVID-19 social distancing.
When not swaying to the beat of Jingle Bells and other Christmas tunes blaring in the background, Santa, his elf and a crew of volunteer helpers handed out bags of toys to children, and a variety of candy, gloves, masks and soap to adults. (Photo album.)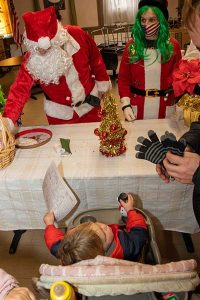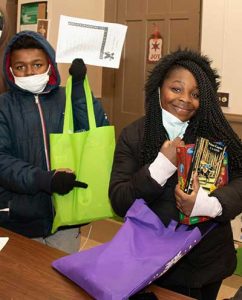 With a wind chill of 9 degrees, a number of parents coming to the soup kitchen had their children stay home. But the kids didn't miss out, as parents and even grandparents got to bring toys home.
A total of 124 meals were boxed for take-out between 11:30 and 12:30, noted Interim Director Mike Pilat.
Kitchen volunteers included Terry and Bob Decker, Joe Antonik, Bob Suprenant, Joanne Czerw, Adrianna Morcotin, Shirley Schmelcher and her husband Bob who was playing holiday tunes on his echo harmonica. Betsy West, OFS, greeted guests and ensured a social-distance line. Staffing the serving line and boxing meals were Mike Pilat, Pat Ball and Gloria Duffy.
Santa John Knight and Elf Lynda Schmelcher were assisted by Barbara Sharpe, Jessica Monnat and John Horvath.