A group of New Hartford High School students continue to volunteer behind the scene.
Even though the Boutique at Mother Marianne's West Side Kitchen is temporarily closed due to the area's surge in COVID-19 cases, the students come down on certain days to sort through donations of toiletries and clothing and prepare the items to distribute to those in need.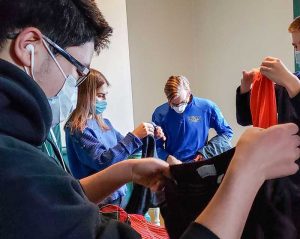 The group coordinator is student Leon Zong, who is working on recruiting more students during the Christmas break, reports Boutique Coordinator Nancy Robert.
The latest group spent Saturday, Dec. 12, helping out. In addition to Leon, they included Jacob Lester (senior), John Karwowski (a senior), Richard Chen (a sophomore), and Cassandra Koziol (a senior).