Mother Marianne's West Side Kitchen occupies most of the main floor of the St. Joseph & St. Patrick Parish Center, which itself is a former school.
Nestled in one of the former classrooms on the second floor is Mother Marianne's West Side Boutique, which offers clothing, books, toys and personal care items to soup kitchen patrons.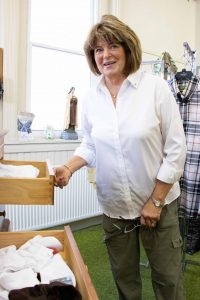 Spearheaded by soup kitchen volunteer Nancy Robert, the free store quickly expanded from a small spot in the basement last November to a classroom in January filled with clothes racks and shelves, and myriad other items.
The boutique is open every Monday, and most Thursdays. Volunteers who make the boutique happen include Nancy and her sisters, Phyllis Bonanca and Pat McCraith, as well as soup kitchen volunteers Julie Crandall and Bernadette VanValkenburg, who, like Nancy, wanted "to do something more."
Much of the inventory is new, and some is gently used. Nancy and her sisters spent some of their own money to help get things going, and now they're getting a lot of donated inventory. She singled out one of those donors, Mary Gearhart of Queen's Closet in Yorkville, for special praise and thanks.
Over the winter, the boutique provided coats, boots, hats, scarves and gloves to soup kitchen guests in desperate need. Others have been outfitted with a set of new clothes to help them look sharp for job interviews.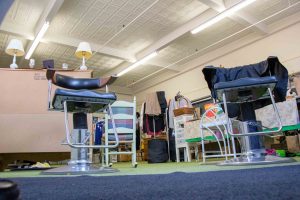 Seeing the need in people coming to the soup kitchen, Nancy decided to do even more. Guests can now get  haircuts from 12 to 1 on the first Monday of the month, and health screenings from 12 to 1 on the second Thursday of the month.
Nancy said that Linda Perrymen and Debbie Moorhead, owners of Hair Solutions in Yorkville, provide the free hair care. Two barber chairs occupy one corner of the boutique that is now dubbed, West Side Salon.
Nancy noted that Dr. Mark Warfel, director of the Mohawk Valley Health System's St. Elizabeth Family Medicine Residency Program, and doctors training to become family practitioners provide the free blood pressure screening and health education.