Nearly 100 volunteers were treated to a banquet at the Club Monarch on May 17 in gratitude for their service at Mother Marianne's West Side Kitchen over the past year.
Some volunteer two days a week, many one day a week, and others step up on holidays.
"I have a whole army of volunteers behind me," soup kitchen director Edward Morgan told the crowd. "I'm like a conductor. I tell you what to play, and you play!"
He shared that he would be cutting back on his hours for a while as he deals with a health issue, but would remain as director and that the Advisory Board would be looking for an assistant director to help him.
"I love each and every one of you. I do."
The volunteers jumped to their feet and gave him a standing ovation.
Advisory Board Chairman John Sullivan told the crowd that he personally sees Ed's dedication to the soup kitchen ministry.
"He's a big man with a big heart. He has shown us what Christ is all about."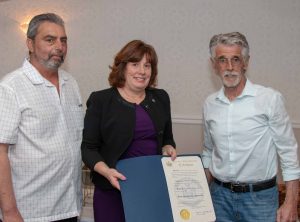 The evening began with Assemblywoman Marianne Buttenschon presenting a citation to Ed and John, recognizing the 11-year-old soup kitchen's impact on the community.
"Thank you for your service," she said. "…You do it because you care."
Fr. Richard Dellos, pastor of St. Joseph & St. Patrick Church, offered an invocation and blessing.
Ed singled out a few of the volunteers for their impactful dedication:
Bob and Terry Decker, "for going above and beyond" as they volunteer every Wednesday and Friday.
Lucretia Hunt, who at age 90 shows up every weekend to hand out bagged lunches.
Nancy Robert and her sisters (Phyllis Bonanca and Pat McCraith), who set up "West Side Boutique" in a former classroom above the soup kitchen to provide clothing, personal care items, haircuts and medical screening to soup kitchen patrons in need, including the homeless.
Kelly Fleming, who coordinates the food recovery network with Sodexo at MVCC and SUNY Poly, providing 18,000 pounds of food to soup kitchens over the past two years.