Santa and Mrs. Claus got an early start on gift-giving on Friday, Dec. 23, by visiting Mother Marianne's West Side Kitchen while both adults and children enjoyed a Christmas dinner.
"Not only did they have the usual dinner plates, but also a variety of pies to choose from," said West Side Boutique volunteer Kathy Brown TenEyck. "Everyone looked soooo grateful and it was a very happy event."
She helped distribute hand and toe warmers, and occasional plastic bags for guests to put all of their goodies in while Santa and Mrs. Claus greeted the children and handed out presents.
"About 50 children, ages 1 to 13, received gifts including toys, games, slippers, dolls, crafts, trucks, chocolate, and many other items," noted Boutique Coordinator Nancy Robert.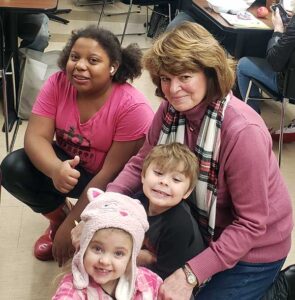 For the past four years, she said, Santa (aka John Knight) and Mrs Claus (aka Linda Schmelcher) "have enjoyed putting smiles on the faces of many children and adults."
In fact, "it truly was a nice time for kids, families and volunteers."