UTICA – Mother Marianne's West Side Kitchen has been selected as a beneficiary of the Hannaford Fight Hunger Bag Program for the month of October.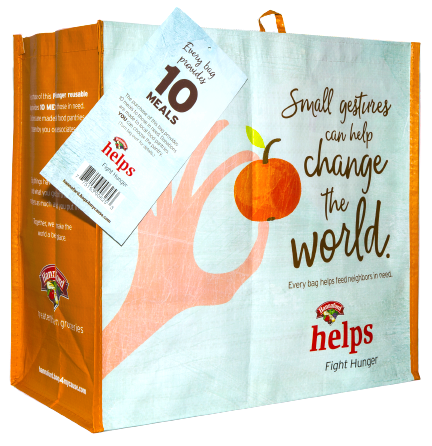 The Hannaford Fight Hunger Bag Program, which launched in April 2014, is a reusable bag program that facilitates community support with the goal to make a difference in the communities where shoppers live and work.
Mother Marianne's West Side Kitchen (MMWSK) was selected as the October beneficiary of the program by store leadership at the Hannaford located at 4593 Commercial Drive, New Hartford, NY. Mother Marianne's will receive a $1 donation every time the $2.50 Hannaford Fight Hunger Bag is purchased at this location during October, unless otherwise directed by the customer through the Giving Tag attached to the bag.
"We are excited and blessed to be a Hannaford beneficiary," said Mary Stronach, OFS, vice chair of the MMWSK Advisory Board. "We serve lunch every day to the hungry, the unemployed and the homeless, and we depend entirely on volunteers and on donations like Hannaford's to serve those in need."
Located on the campus of St. Joseph and St. Patrick Church, the soup kitchen is named after St. Marianne Cope, who grew up in the West Utica parish before becoming a Franciscan sister and traveling to Hawaii to care for lepers and their families.
For more information on the Hannaford Fight Hunger Bag Program, visit hannaford.2givelocal.com.