Mother Marianne's West Side Kitchen was bustling Wednesday, Oct. 9, not only with over 100 guests but also some 75 volunteers and donors who turned out for a rededication ceremony.
A ribbon-cutting kicked off the celebration, followed by a tour of the facility and then a reception and recognition event across the street at the Irish Cultural Center.
Advisory Board Chair Darren Woods welcomed everyone to the soup kitchen and told donors that the renovation and upgrades "couldn't have happened without you."
He pointed to new flooring, new dining tables and chairs, fresh coats of paint, new lighting, reconfiguration of the kitchen, bike racks outside the soup kitchens' entrance, and a new serving area and service window – "what we call our hole-in-the-wall project."
What began in 2008 as a small soup-and-sandwich operation, now serves almost 5,000 meals a month, he noted.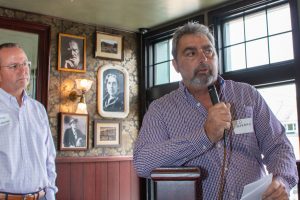 Before  Fr. Richard Dellos, pastor of St. Joseph and St. Patrick Church, cut a ribbon that was strung across the new serving area, Soup Kitchen Director Ed Morgan told the crowd that it was the voiunteers and donors that made it all possible. In addition to providing hot lunch entrees, he said, the operation is blessed to have doctors who come in to provide health screenings and volunteers who operate a boutique on the premises offering free clothing and haircuts.
The goal, Ed said, is very simple – to treat everyone special because "everybody who comes here is somebody."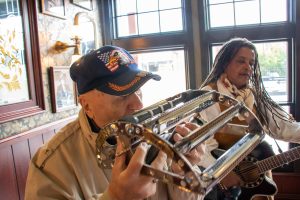 At the Irish Cultural Center, singer/guitarist Cassandra Harris Lockwood and Kurt Krumme, accompanying on the guitar, performed her original St. Marianne Cope song, along with a selection of folk tunes. "Jamming" with them on the "echo harp" harmonica was 85-year-old volunteer Bob Schmelcher.
Darren presented a number of benefactors with engraved wooden plaques*, and announced that everyone present would receive a coaster-tile* keepsake engraved with the image of St. Marianne and the words, "a miracle of loaves and fishes."
"That is exactly what Mother Marianne's West Side Kitchen has been since its inception – a miracle that keeps multiplying."
* * *
The following benefactors received engraved wooden plaques
Engraved thank-you plaque for donors

Sheila and Ronald Cuccaro (Community Foundation's Community Choice Award benefactor, among other gifts)

Holy Family Church, Vernon (Duffy & Bill Geary)
Sodexo (food service at MVCC & SUNY Poly)
Maggie Zywiak
Marianne Turczyn
Community Foundation of Herkimer & Oneida Counties
Community Foundation donor-advised funds:
Dick Tile & Marble
Adorino Construction Inc.
Good News Center
Linda & Mike Slater
Anne Elacqua
Price Chopper
Hannaford
Panera Bread
MVCC iServe (Kelly Fleming)
Utica Glass Company
Central New York Food Bank
* The wooden plaques and coaster-tiles were engraved and donated by Thodden Saporetti.