Four new bike racks that can accommodate up to eight bicycles now grace the sidewalk near the entrance to Mother Marianne's West Side Kitchen.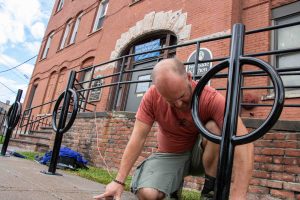 Matt VanSlyke of Utica Bike Rescue installed the racks Sept. 24  so that soup kitchen patrons and volunteers who ride bikes to the facility will have a place to secure them.
A couple of bicycles have been stolen, noted West Side Kitchen Boutique Coordinator Nancy Robert, who had discussed the possibility of getting racks with Matt when Utica Bike Rescue provided some bikes for children coming to the soup kitchen.
"We received a donation of a couple of dozen of these racks from a construction company," Matt said. "We want to offer them to community groups and non-profits."
He added: "These are actually the first to go in – hopefully the first of many."