Secular Franciscans put the spotlight on soup kitchen director Ed Morgan during their 160th Anniversary Celebration this month.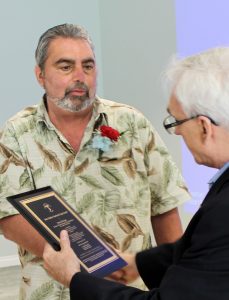 They presented him with the Saint Mother Marianne Cope Award, citing his leadership, his treating clients as blessings, and his coordinating an effort that served over 53,000 meals in the past year.
Ed was one of three honorees. The others were Duffy Geary, OFS, for her work with soup kitchens, food pantries and prison minister, and Betty Frank, OFS, for her ministries at St. Joseph-St. Patrick Church during 70 years as a professed Secular Franciscan.
State Assemblywoman Marianne Buttenschon joined in honoring the trio during the anniversary banquet at the Irish Cultural Center on Aug. 18. (See photo above.)